The meaning of the LENORMAND Day card "The Cofin"
You have drawn the lenormand day card "the cofin"?
Relationship and Love – Lenormand the Cofin meaning
The coffin which means in the original meaning "Death or rebirth" is first of all not announcing anything positive in matters of love and relationship. In terms of partnership this card is predicting problems, challenges and stands often for separations. However if the second and third card which you draw predict something positive than the coffin loses his negative effect and there is a chance of "cure" for your problems. Another meaning of this card could be the fact that (as long as this card lies in your past) you haven't overcome a separation or any kind of grief. In other Tarot systems this card means death and rebirth (something negative stops and something new and better starts in same time)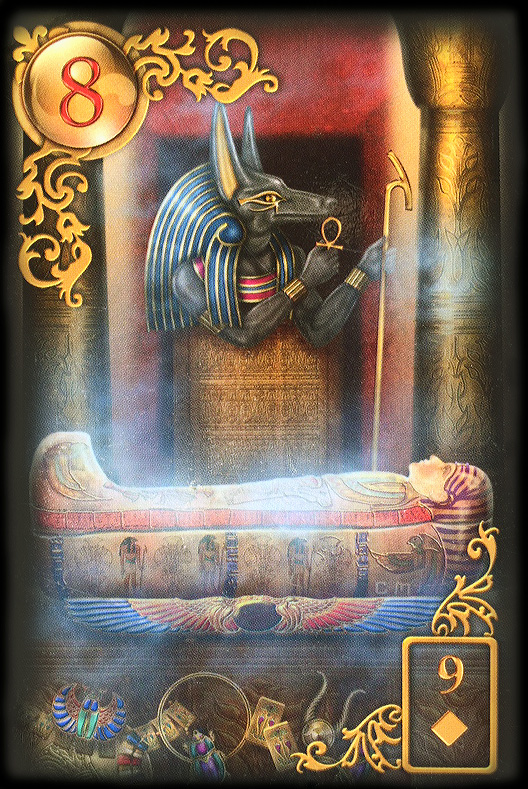 Friendship and Family – Lenormand Day Card the Cofin
When you draw the coffin in matters of friendship and family the general meaning is that a friendship will break, friends will withdraw or a disease. In these hard times people show her true face and you will find out who stands on your side and is worth your trust and who is not. However this card has often only a temporal meaning and predicts a standstill or a problematic situation will take longer to be solved. Some fortune tellers and clairvoyant connect "the coffin" to the (physical) death. Be always careful with such interpretations, especially if you are mentally unstable or you do not know the questioner, than it is wiser to discard this topic directly.
Professional and finacial – Lenormand Day Card the Cofin
Plan conservative and do not buy anything what is not relay necessary. In matters of "profession" the coffin predicts often a new job or in the worst cases unemployment.The coffin card can also reflect dissatisfaction, problems and lack of recognition. Often people are not feeling good in their current job position and it is advisable to reconsider the actual state. If you are finding yourself currently in unemployment, this situation will last longer than expected. In matters of finances the potential of financial loss is relay high so slow down a little bit and do not risk anything.