The meaning of the LENORMAND Day card "The flowers"
You have drawn the lenormand day card "the flowers"?
relationship and love – lenormand the flowers
In matters of love and relationship this cards means often an invitation, visit or a gift. Another meaning is the possibility of a meeting with the one you fell for. A long-awaited meeting will now take place and an invitation which you desire so much will finally fulfill. For unmarried partners, this card could mean a proposal for a wedding. Whatever is waiting for you this card is a positive card in matters of relationship and love. Perhaps you are finding yourself in isolation to the one you love and wish that he or she will come back to you? If on top of this card you have drawn the heart and the letter, than a problematic situation is likely to turn into something positive. If you are single, the chances are good that you may meet someone else and that a relationship development will take place.
Tip: Please do not mix up the flower card with the Ring card which can also mean a gift (often a jewelry)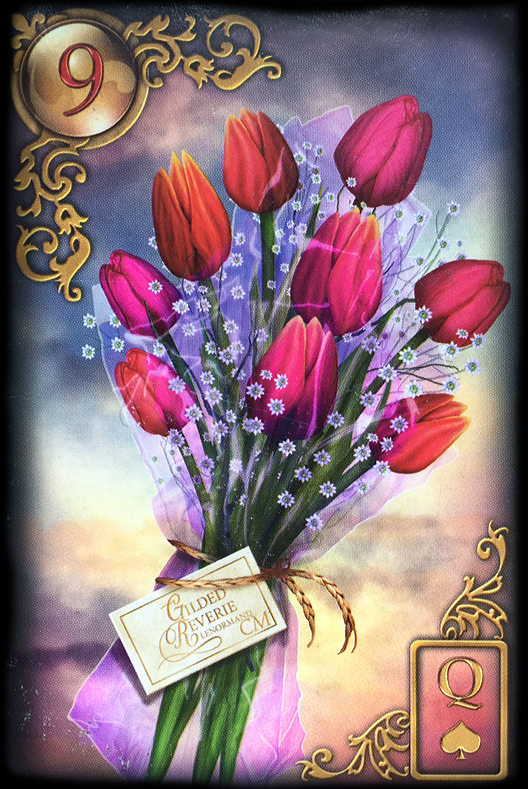 Friendship and family – lenormand the flowers
Just like in matters of love and relationship, this card means here as well a meeting, visit, invitation or a gift but this time from a family member or a friend. It could be a family celebration such as a Birthday, wedding or similar. This card can also be associated with a "good friend". Maybe you will receive an invitation or you will meet this friend. Whatever it is you should take the chance and go onto this meeting, as this will probably open a new door for you and a development will take place. This card has positive vibrations especially if you are drawing more positive cards, the development will go onto the right direction!Another meaning could be that this card will remember you that you have to buy a present? As you can see the Flower card leaves room for flexible interpretations as long as you are positive.
Tip: When you draw the flower card, than just get in touch with your family, or your best friend.
Profession and finances – lenormand day card the flowers
In professional matters this card predicts creative periods. Everything what you will start today will succeed better than usual. Professional sectors which are associated with the flower card are for examples professions relating to art and crafts. If you do have any questions concerning your professional situation, then this card is predicting a positive development. Do you want to know what your colleagues may think about you? You are popular, ambitious and you are known as sociable.For questions about job changes this card predicts a positive development during spring. Even in case of financial issues the flower card is predicting a positive development. Everything what you will start now will turn successfully and chances of "Financial abundance" are good.
Tip: Use your creativity to achieve goals even faster. A positive development in matters of financial and professional life will probably take place in spring.