The meaning of the LENORMAND Day card "The scythe"
You have drawn the lenormand day card "the Scythe"?
relationship and love – Lenormand Day Card the Scythe
This card is a warning or means in the worst case scenario danger in matters of love and relationship. She is predicting a situation which will escalate or that a relationship is developing more and more negative. The risk that discussions, conflicts and disputes arise is high. People who once loved and treated each other with respect will start to hurt each other. The fox card is often in conjunction to the scythe card, as the reasons for these conflicts are often fraud, cheating or lies. If the partner (women or men) has an aggressive behavior than you should better take a step back, as the chances of improvements are most (often) likely equal to zero. The Scythe is alongside the Coffin Card one of the worst cards in the Lenormand Tarot Deck. It is advisable to draw a second and third card in order to see the developments and see the out coming of these situations.
Tip: If you are already facing problems in your Relationship it is essential to talk with your partner about it, (medial discussions) unless your partner agrees to these conversations. Another reason why these hurtful situations are taking place is the fact that the emotional feelings are not clarified in your relationship.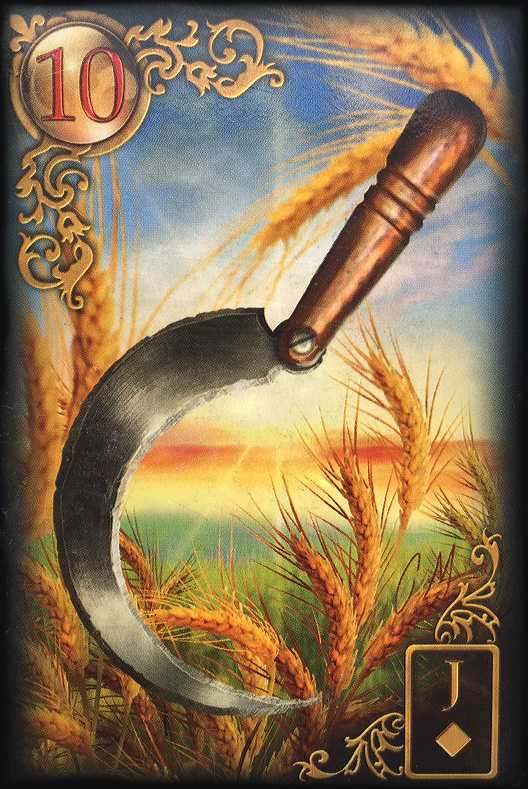 Friendship and family – Lenormand Day Card the Scythe
In matters of Friendship and Family this card is not announcing anything good. When we look more into the friendship area, the Scythe predict that situations are developing negatively. Chances are high that you might be disappointed by your best friend. It could be possible that a sudden situation which can be dangerous arise. You will need to be prudent in order to prevent something bad to happen. Within the family "the scythe card" could predict that a child- especially between 14-18 years old – is frequenting the wrong people.
This person could be a young man who tends to have an aggressive behavior or that the child is stuck in untrusted situations. However, this card can also stand for a family dispute or situation which will escalate. Fate beats can also be associated with the scythe card.
Tip: Similar to the coffin card it is advisable to interpret the scythe with caution. In order to interpret this card properly you must have a lot of experience and Empathetic asset. If you are unsure about the meaning consult an experienced fortune teller of your choice.
Profession and Finances – Lenormand Day Card the Scythe
If you have questions concerning your professional and financial life and you have drawn the scythe card, than please do not think directly about the worst case scenario. Loss is playing in the rarest cases a role but however, be careful and rely onto your intuition. In matters of profession this card is warning you, that you may face a situation in which conflicts with a colleague could occur. In Healthcare the scythe card can be considered as dangerous.Perhaps you are working too much and if you are not careful and slow down a little bit you could face some health challenges. Some future tellers also predicting accidents with the scythe card. All I can say please take your distance from predictions like that. If you draw the scythe in professional matters draw a second and third card in order to determine the development and outcome.
Tip: Do not make any hasty decisions but be alert and proceed with caution.